1. Types of Paint Protection Used?
Proshield Inc. is proud to announce we now use the latest technology from Japan, Brila Premium Body Glass Coating, a clear ceramic coating made to withstand the elements and road debris whilst reatining that new car shine.  Due to the excellent shine, warranty coverage, and puncture resistance, Proshield also uses 3M VentureShield, Xpel Ultimate and SunTek top coated urethane paint protection films.
2. What can be protected?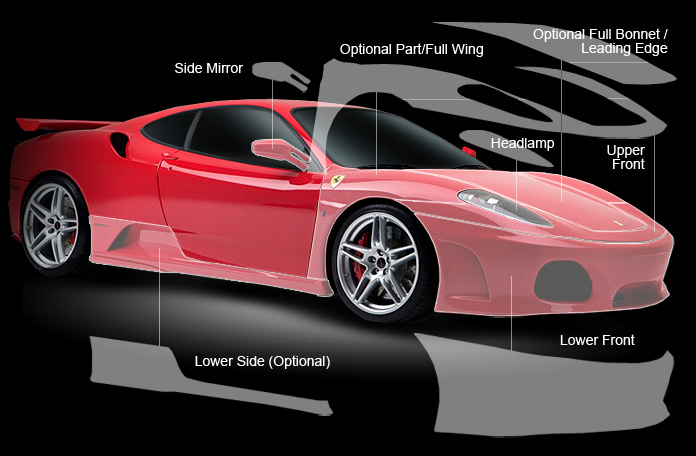 We can install on any area that's painted. Area such as hood, bumpers, painted mirrors, headlights, door cups are most popular.
3. Is the film invisible?
Proshield uses clear paint protection film that is 99.5% clear. It is virtually invisible.
4. What are the films made out of?
•  3M VentureShield is a clear, thermoplastic urethane film made from 100% aliphatic resin. It's ability to resist yellowing, and offer the highest level of abrasion resistance is unparalleled in the industry.

•  Xpel Ultimate employs special elastomeric polymers that "heal" over time eliminating swirl marks and other fine scratches without having to do anything.

•  SunTek's Technology Driven Paint Protection Film is a proprietary, self healing top-coat formulation that is scratch and crack resistant with a high gloss finish and superior optical clarity.
5. How thick are the films?
6. Will the film yellow over time?
The film generally does not yellow overtime. However, Proshield offers a life time warranty for our installations of any of the clear films we carry. We will reinstall the film for free.
7. Will car wash or wax affect film?
You may take it through a car wash and wax it. However, we recommend hand washing or soft cloth automatic car washes only as some of the high pressure washes or brush washes will peel or scratch the film. Never use abrasive polishes or waxes. With the right wax, it will actually help protect the film again other pollutants and bug damages.
8. Can the film be removed at anytime?
Yes, It can be removed and it won't damage the vehicle's paint in anyway. We always recommend professional removal of the film.
9. What is covered in your warranty?
Proshield Inc. offers a lifetime warranty covering yellowing, bubbling, cracking, and misapplication.  However, damages caused by accidents, ordinary wear, and road debris are not covered.
10. Will it affect my vehicles paint?
The Paint Protection Films that Proshield Inc. offers, allows for UV rays to penetrate which eliminates the "two-shades" problem resulting from traditional car bras.